So Sunday nights my fiance gets off work at 5, which for him is pretty early. As such, we get to eat dinner as a family! A bit of a rarity round these parts. We tend to all eat separately when we're hungry and the kids are primed for bed before he even gets home most nights.
Tonight it's scalloped potatoes, garlic roast chicken, sweet carrots, cheesy broccoli, stuffing with sauteed zucchini and sweet peppers. Find my recipes below:
Scalloped Potatoes
Ingredients:
4 pounds potatoes, peeled and sliced

3 tablespoons all purpose flour

1 1/2 teaspoons salt

1/2 teaspoon pepper

1 1/4 cups shredded cheddar cheese

3 oz Swiss cheese finely chopped

2 medium onions finely chopped

1 1/2 cups milk

2 tablespoons parsley

1/4 cup cooked bacon crumbles
Instructions:
1. Place a third of the potatoes in a shallow 3-qt. baking dish coated with cooking spray. In a small bowl, combine the flour, salt and pepper; sprinkle half over potatoes. Sprinkle with 1/4 cup of each cheese and half of the onions. Repeat layers. Top with remaining potatoes. Pour milk over all.
2. Cover and bake at 350° for 50-60 minutes or until potatoes are nearly tender. Sprinkle with remaining cheeses. Bake, uncovered, 10 minutes longer or until cheese is melted and potatoes are tender. Sprinkle with parsley and bacon crumbles.
Sweet Carrots
Ingredients:
1 pound bag baby carrots

4 tablespoons butter

1/4 cup water

1/4 cup maple syrup

1/4 cup orange juice

1/2 teaspoon cinnamon sugar

1/4 teaspoon salt
Instructions:
1. Place all ingredients in a medium, heavy saucepan
2. Bring to a boil over medium-high heat, stirring occasionally, until the carrots are tender and the sauce becomes a shiny glaze. (about 15 minutes)
3. Remove from heat and serve.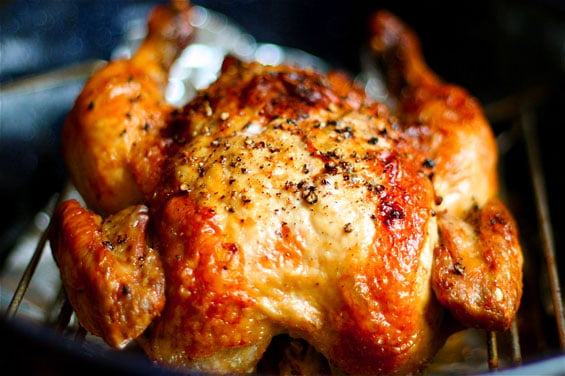 I used this recipe for my garlic roast chicken.
I cheat and use Stove Top for my stuffing, but I mix it up by throwing in some sauteed zucchini and sweet peppers.
I hope all of you are enjoying time with your families this Sunday.